The Complete Guide to The Cowgirl Attachments
Written by sex journalist and expert, Gabrielle Kassel, for The Cowgirl.
Maybe The Cowgirl is hanging out in your shopping cart and you're trying to figure out which additional attachments to buy. Maybe Santa got your boo The Cowgirl, and you're trying to decide which attachment to get for their stocking. Or maybe you're a long-time owner of The Cowgirl looking to ~*spice*~ things up.
Whatever the reason, if you want to learn more about the 6 different Cowgirl attachments, this guide is for you.
(If you're still trying to figure out if The Cowgirl is the right toy for you, check out our introductory guide on couples vibrators first then come right back).
Cowgirl Attachments 101
With the option to remove and replace various attachments, The Cowgirl is a bit of a "choose your own adventure ride". Each of the 6 attachments is designed to offer a slightly different sexperience—the Bronco, for example, is designed to replicate sex with a biological penis, while the Rawhide is designed for external vulvar and/or taint stimulation.
That said, all 6 of the attachments are made from body-safe silicone and can be enjoyed by pleasure-seekers of all genders, sexualities, and genital shapes and sizes.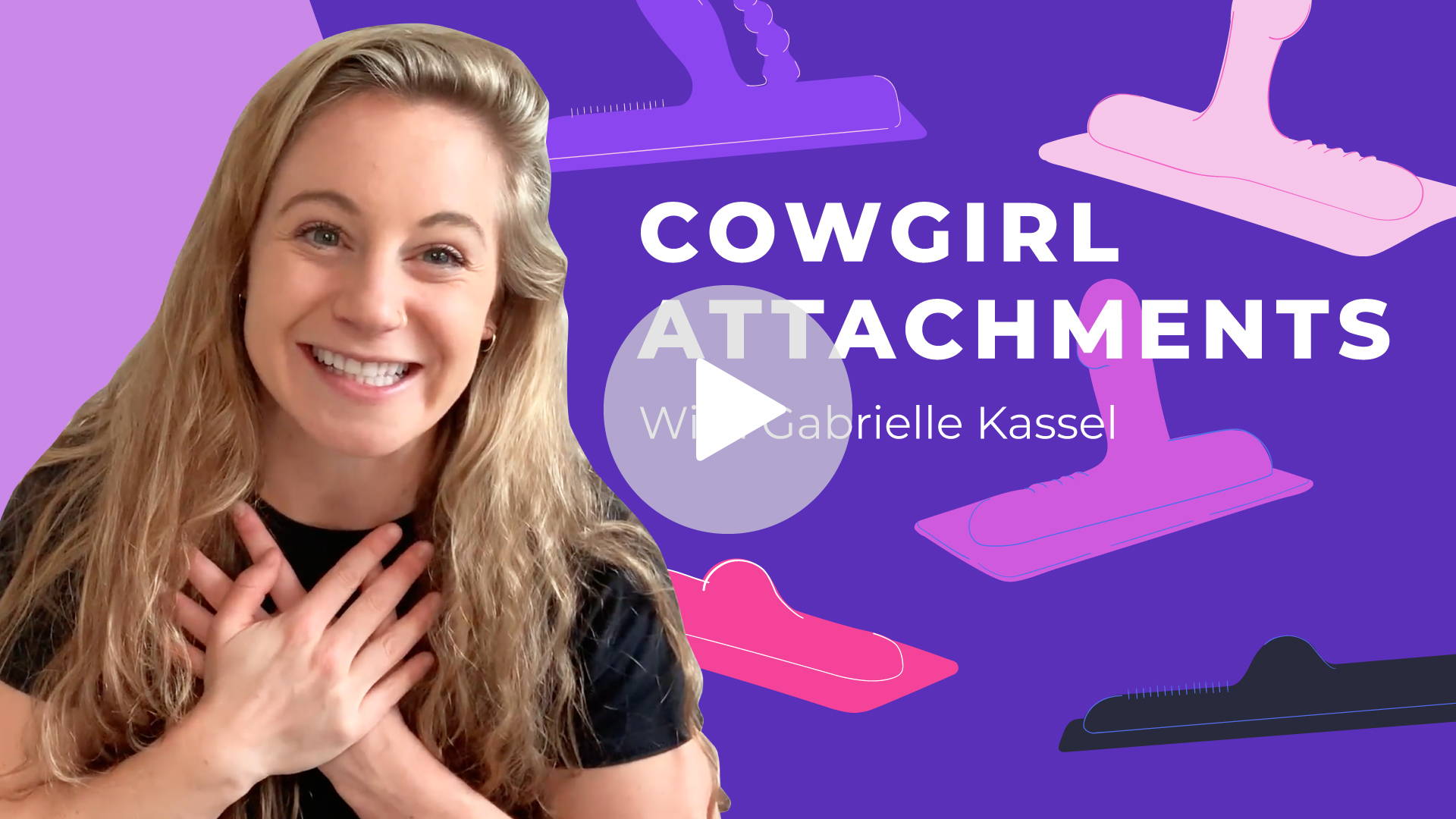 The Cowgirl comes with 2 Attachments
Everyone who purchases The Cowgirl automatically receives two (2!) attachments: the Wild West attachment and the Rawhide attachment.
Wild West
The Wild West Attachment is to Attachments what the Le Wand is the wand vibrators: a f*cking classic.
The shaft measures in at 3.5 inches long and 4 inches around, which is about the size of 2 fingers— maybeee 3 if your partner has small hands.
Rather than being crafted after a bio-cock (like the Bronco), the Wild West is vein-, foreskin-, and head-free. "It's the perfect pick for people who know that they do not want to be filled by a toy that looks like a biological penis," says queer sex educator Andy Duran, the education director for Good Vibrations, a pleasure product company that sells The Cowgirl.
Features:
Diverse Attachment for P-Spot or G-Spot stimulation
Penetrative Pleasure
Great for single or double penetrative play
Works well with Pattern 2
Rawhide
Ever ridden a Motorcycle and gotten turned on? Or straddled the Mechanical Bull at your local bar and felt ~waken~. ? If so, Duran says you're going to L-O-V-E the Rawhide Attachment.
A non-penetrative attachment, "The Rawhide covers the entire pelvic region, transmitting the deep, rumbly vibrations of The Cowgirl deep into the body," says Duran. Ever used a palm-shaped vibrator before? The Rawhide feels similar to that, but it longer transmits high-intensity vibrations.
The attachment also features a swath of silicone studs, which can be used for additional clitoral or perineum stimulation. "You can try grinding your bits directly on the nubs," says Duran. "Or, you can try elevating your body over nubs so that you feel the air moving through the nubs, as opposed to the nubs themselves," he says.
If you find the genital-to-stub contact too intense, another option is to cover the nubs with a dental dam or use your panties as a buffer.
Features:
Simulates an actual ride
Topical Pleasure
Bumpy friction stimulation
Great for Partner Play
Works well with Pattern 5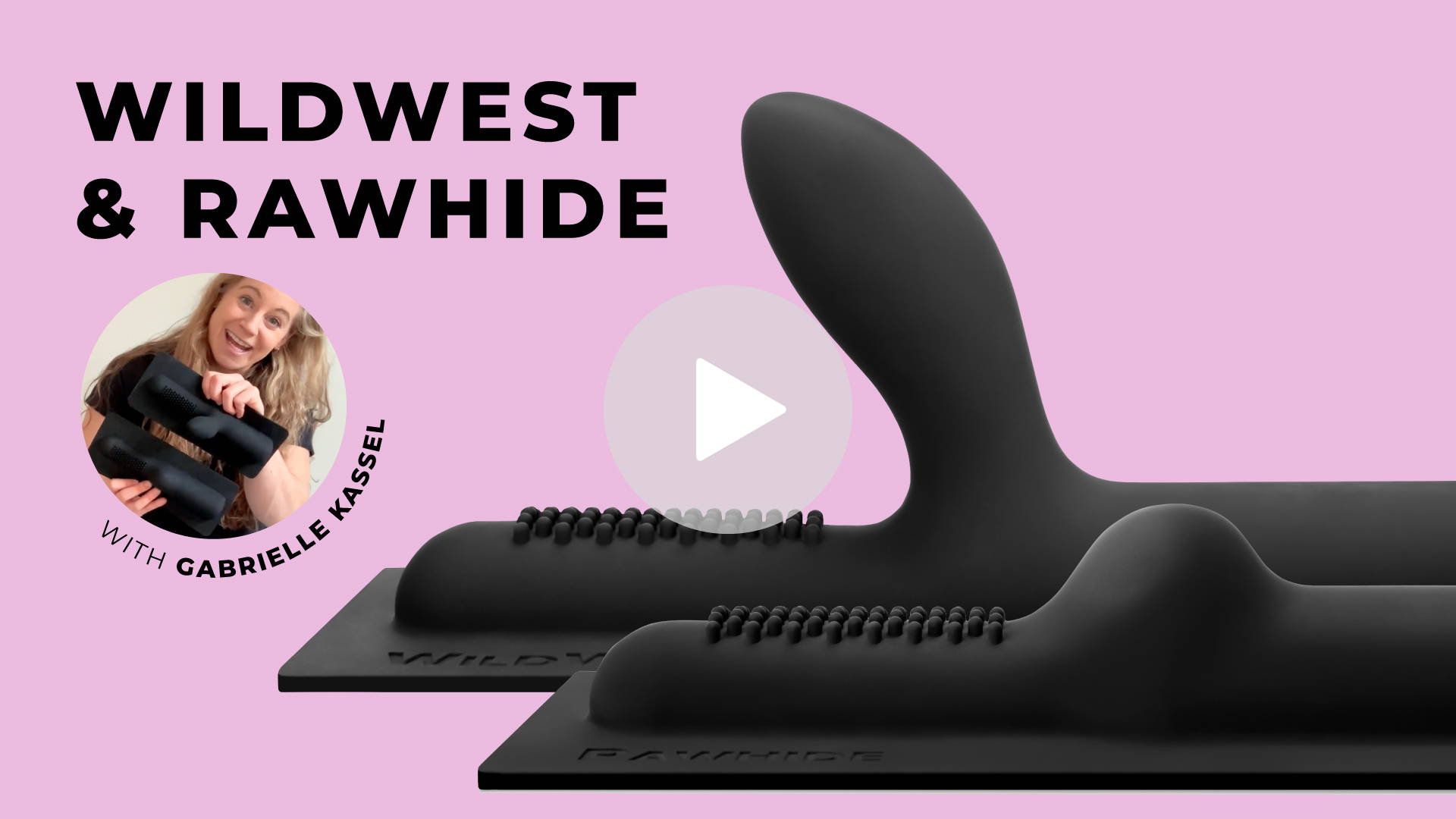 THE 4 ADDITIONAL COWGIRL ATTACHMENTS
Bareback
Another non-penetrative attachment. What separates the Bareback from the Rawhide is that the Bareback is not textured. Rather than featuring sensating nubs, this attachment is smoother than The L Word's Shane. Meaning: very.
Its smooth exterior makes the Bareback a good fit for those who easily become over-stimulated, as well as those who find textured toys downright annoying (to each their own!).
"For the best riding experience, I recommend people use the attachment with lube so that they can glide and slide their bits along the smooth surface," says Duran.
Features:
Simulates an actual ride
Topical Pleasure
Sleek friction stimulation
Great for Partner Play
Works well with Pattern 1
Buckwild
The Buckwild takes the classic Wild West and sticks a six-bead string of anal beads beside it.
"Anal beads stimulate the nerve-dense anal opening and anal canal, while also providing the rider a pleasurable feeling of fullness," says Duran.
The Buckwild combines the pleasure of anal beads with that of front-hole penetration, making it a great option for anyone who *knows* that they enjoy double penetration, and those who are interested in exploring it for the first time.
Worth mentioning: The Buckwild should *not* be your first ever introduction to anal play. Why? In short, because what's the rush!?? Duran recommends beginning your anal exploration journey with a small butt plug before graduating to a set of beginner-friendly anal beads, and then eventually trying the Buckwild.
Features:
Double Penetrative Attachment for G-Spot and A-Spot stimulation
Anal Beads for deep backdoor play
Great for hands-free pleasure
Simultaneous sensations
Works well with Pattern 3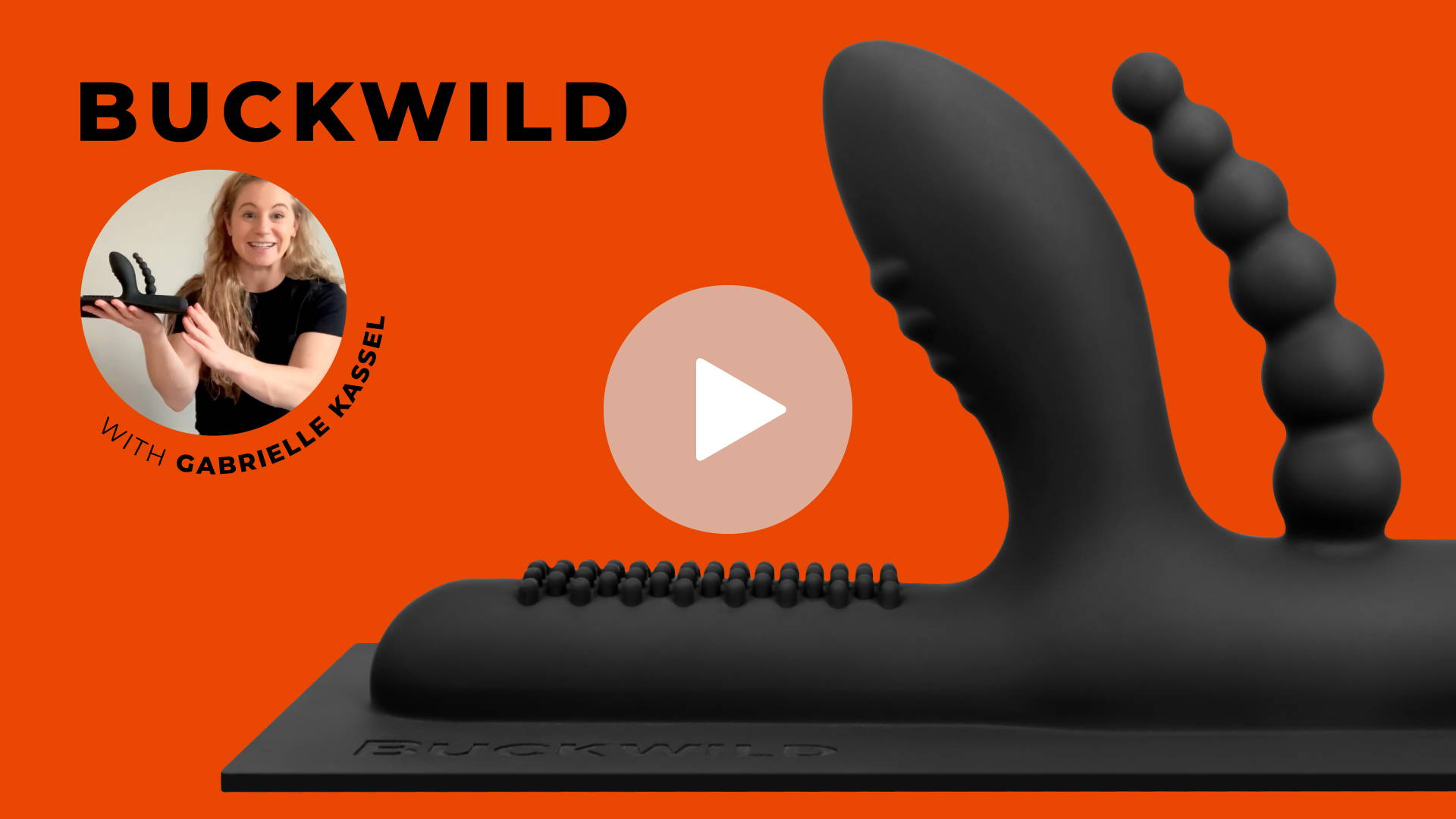 Lone Ranger
Just look at this attachment! Right away, you can tell that the head of the Lone Ranger is far more bulbous than any of the other attachments. That's intentional! Duran explains: "The curved shape is designed to stimulate the wearers G-spot or P-spot."
ICYDK: The G-spot and P-spot, are nerve-dense pleasure-zones, located two inches inside the vagina and anus of prostate-havers respectively. Typically, both hot spots respond well to pressure, which is why the Lone Ranger shaft is so firm.
While some people may like the sensation of bouncing up and down on the attachment, Duran recommends sliding down on the Lone Ranger and then rocking back and forth with it inside you. "The consistent pressure of the bulbous end against your G-spot or P-spot, combined with the vibration transmitted from The Cowgirl can be incredibly pleasurable," he says.
Features:
Pinpoint P-Spot or G-Spot stimulation
Smooth texture for targeted zone play
Make the most of your Sex Machine's rotational function
Works well with Pattern 4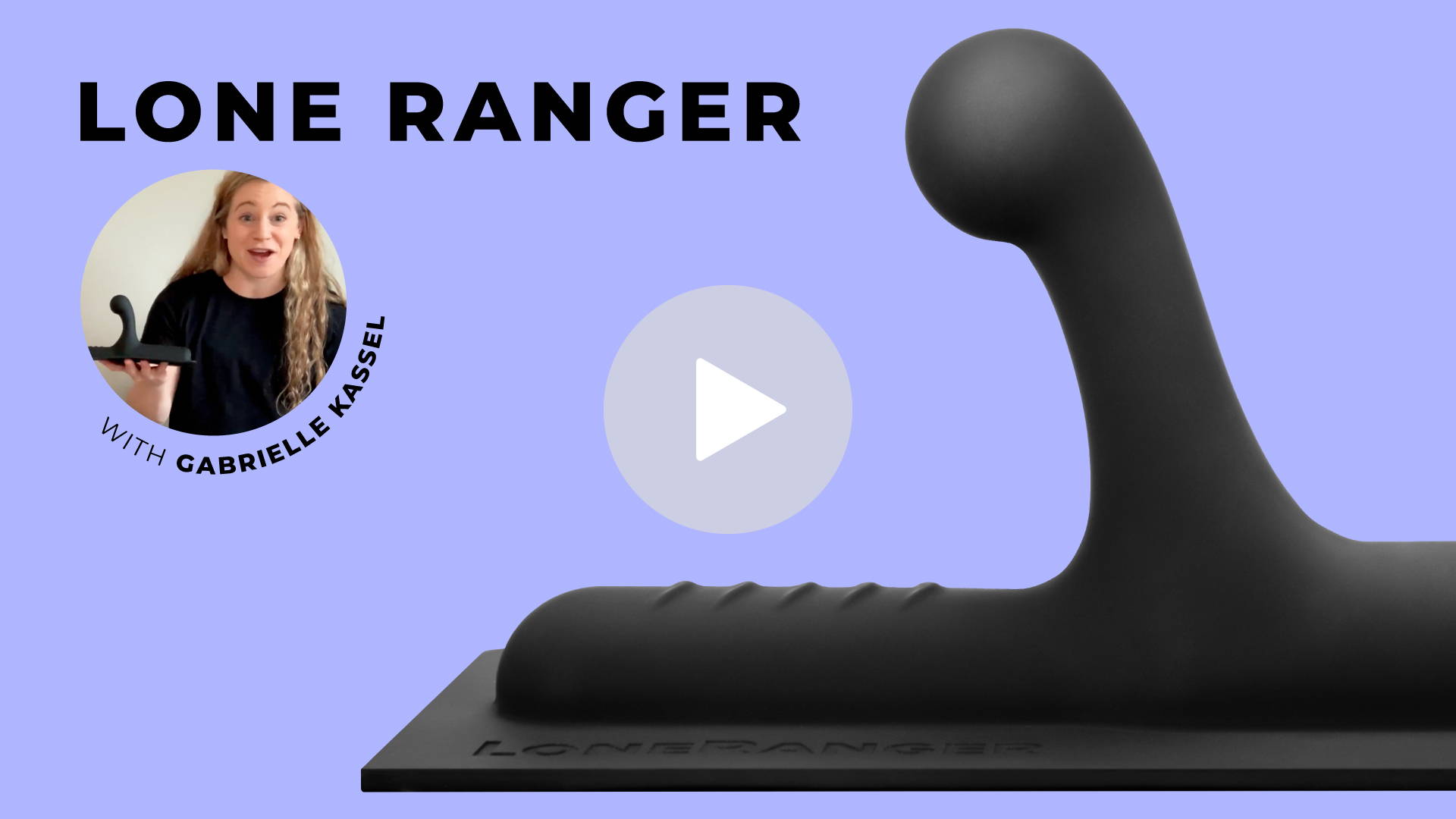 Bronco
Modeled after a biological penis, the Bronco is designed for people who have had enjoyable experiences with a cock and want to recreate the sexperience.
Because the attachment features a pronounced head and veins, people who enjoy textured dildos and vibrators will also enjoy the Bronco, says Duran.
"A realistic-looking attachment is also a good option for couples who are interested in exploring threesomes or groups," he says. Couples with cucking, voyeurism, and exhibitionism fantasies, may find pleasure in the Bronco's realism, too.
Features:
Realistic P-Spot or G-Spot stimulation
Veiny texture for life-like fantasy play
Curved for erogenous zone targeting
Works well with Pattern 1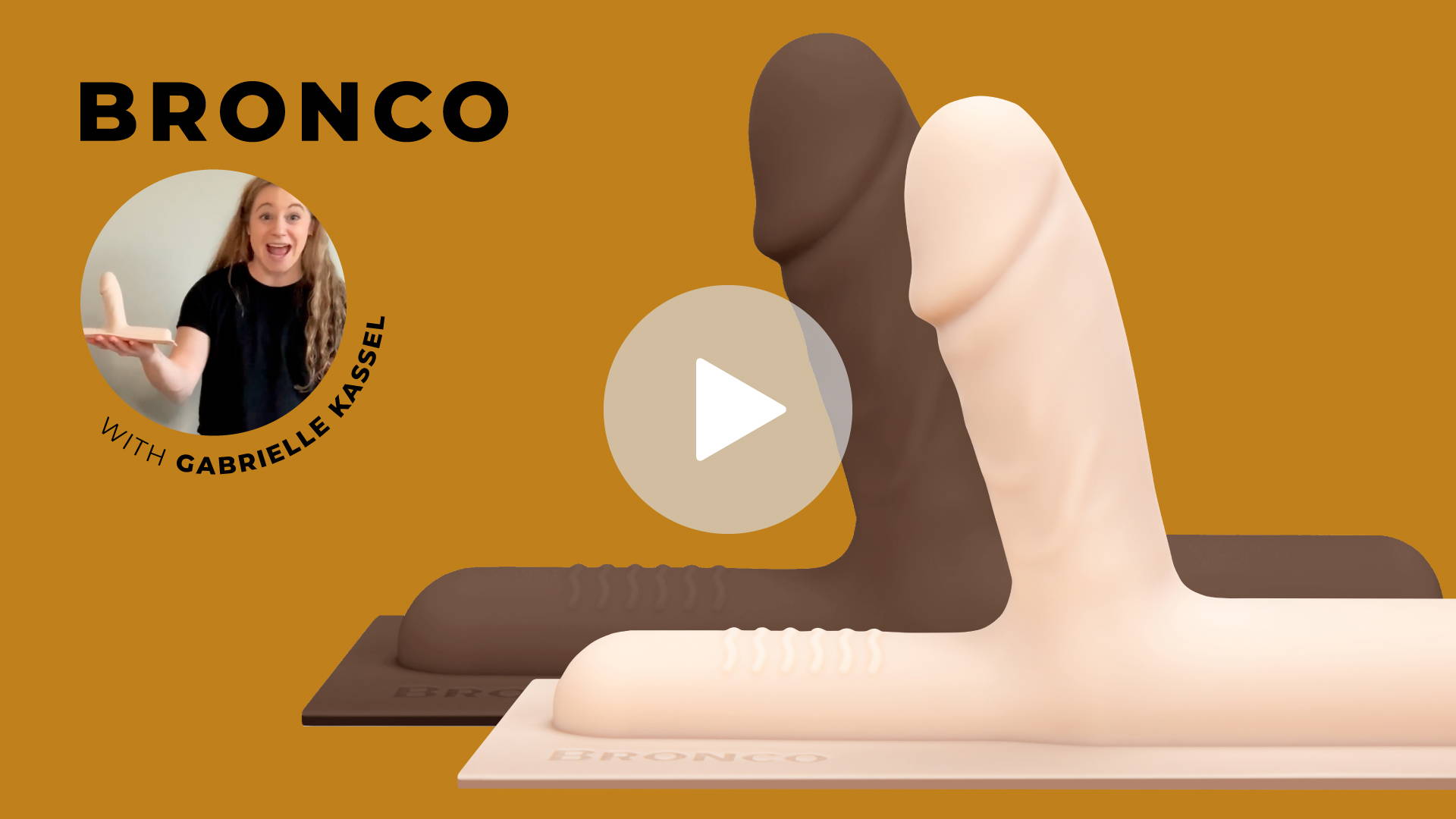 GETTING STARTED WITH COWGIRL ATTACHMENTS
Once you have your Cowgirl and all desired attachments, keep these tips in mind for the most pleasurable ride possible.
1. USE THEM!
Fam, it shouldn't need to be said, but for the love of your bits, never-ever use The Cowgirl Sex Machine without an attachment!! Doing so is not just uncomfortable, it's dangerous!
2. WASH THEM BEFORE AND AFTER USE.
Again, all of The Cowgirl Attachments are made from body-safe silicone. That means that not only can you get them c-o-m-p-l-e-t-e-l-y clean—but it's also pretty darn easy to do so!
Just detach the attachment, then head to the sink and wash with some fragrance-free soap and warm water.
Another option is to spray on a pre-made sex toy cleaner like b-Vibe Organic Toy Cleaner before wiping it clean with a clean washcloth.
If you use soap and water, please make sure to dry the attachments before putting them away! Mold and mildew go *heart eyes* for damp places; any lingering wetness gives both a place to thrive. A Q-tip can help you dry the hard-to-reach nook and crannies of the attachments.
3. USE WITH WATER-BASED LUBE!
"Lube is what makes a difference between painful penetration and pleasurable play," says Duran. "I highly, highly, highly recommend using all of the attachments with water-based lubricant, especially on the external, textured parts."
Keyword: Water-Based. Silicone toys (read: attachments) are not compatible with silicone lubricant. Silicone sticks to itself, which can cause the attachments to warp and change shape #science.
4. READ THE USER MANUAL BEFORE YOU RIDE.
Thankfully, how you use this rideable vibrator is pretty self-explanatory. And the controller is pretty intuitive, too.
Still, you'd be wise to carefully read the product manual before your first attempt at riding The Cowgirl. In it, you'll learn how to properly attach and detach the silicone attachment to reduce the risk of tearing, how to enable the rotation setting and more.